Venue
THE VENUE - THE WORLD FORUM

The World Forum is in The Hague's international zone. The combination of a multifunctional auditorium, flexible meeting rooms and various break-out areas makes the World Forum the perfect venue for EuCAP. The meeting rooms are all accessible from the central hall where the exhibition will be located. This will create a perfect atmosphere for meeting colleagues over a cup of coffee, or getting acquainted with new products and ideas.
Hotels and restaurants are easy to reach while parks, theatres and shops are at walking distance.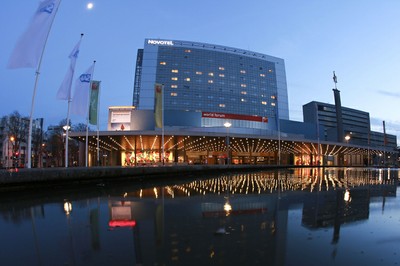 The World Forum was formerly the Nederlands Congres Centrum (NCC) and prior to that the Nederlands Congresgebouw (NCG). It was opened in 1969 and was designed in the Dutch functionalism style by architect Jacobus Johannes Pieter Oud. His son, Hans Oud, completed the construction after his father's death in 1963.
The Nederlands Congresgebouw was extremely modern for the 1960s. A ceramic artwork by Karel Appel stemming from that era can still be seen on the exterior wall beside the entrance. Artist Max Raedecker painted four murals in one of the auditoriums in 1969. The Congres Centrum painted over these walls as part of refurbishments carried out in 1992 and as a result the artworks can no longer be seen.
The Nederlands Congres Centrum gained international fame as the venue for the North Sea Jazz Festival from 1976 through 2005. Some 70,000 visitors attended the festival each year and 1,200 musicians performed in 15 different auditoriums.
The former owner of the convention centre was the Municipality of The Hague and it sold the centre to TCN in 2001. The "Events that shape the world" slogan has been associated with the venue since February 2008. The building is now known as the World Forum. Visitors enter the building by crossing a genuine ´world carpet´ that incorporates every continent.
TCN transferred the operation of the World Forum to GL events in October 2009. GL events manages 36 convention centres worldwide – from Barcelona to Shanghai – and has many years of experience in organising events. This alliance marks a logical step within the process of further strengthening World Forum´s international market position.
Ground Floor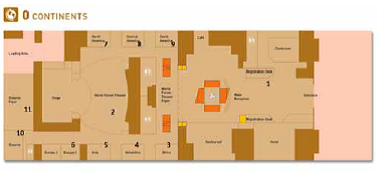 1st Floor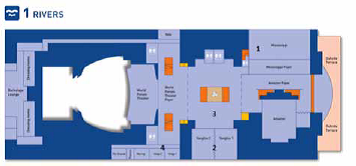 2nd Floor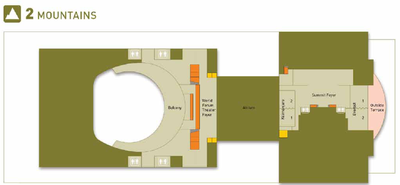 Document Actions